HOW TO: Share WPN Poker Tournament Results on VGN!
Click Here! to Share a Poker Tournament you played on VGN Poker with the World!
Be warned this might be the nerdiest article I have ever written.  But hey I feel like you guys should hear this and I'm due for an aritcle.  If you want to skip right to the "How To" you can skip over the first few paragraphs to the bottom.  There are visual aids and full outline of how the tournament result sharing feature works.  This is definitely a cool little tool to help you get your name out there a little bit and show your friends an accomplishment.
For those are are subscribers you must have seen all the newsletters and information regarding the Tournament Result Server that we have been working on.  WPN Is known for its awesome promotions, tournaments and software. VGN is an independent Social Poker Community, League, Gaming Network & Web Service Provider that operates within Americas Cardroom, Ya Poker & Black Chip Poker.  Without WPN and other affiliates getting me motivated again chances are VGN will still be lying dormant in the dark abyss of a time now past.  ACR, BCP & Ya Poker Alongside WPN serve up a Social Platform that is perfect for players and affiliates to grow and expand.  They have a unique setup that has proven unlike others.  While this is just a small server program now this will absolutely be the back bone of VGNetworks Poker Ranking System.  Eventually with this software I do plan on making a Packaged release with a paid and free version which will enable players to be able to harness the power of this software and use it to expand their own independent ventures.  For now though in these early stages it will remain hosted and supported soley on Virtual Gamer's Network.  My goal is that other WPN affiliates and poker advocates alike will be able to harness this technology and use it for their own independent ventures.  This result server is not a product of WPN.  It was programmed outside of their development team.  This means that all support and questions about this software will be handled through VGN Support Representatives.  If you have questions or need support please do not hesitate to open a ticket or contact support.
VGN RESULT SERVER OVERVIEW
As promised Subscribers now have the ability to post tournament results through our stats server.  Sharing your tournaments through our site will allow you to personalize a tournament and get it out there for the world and the community to see.  Gives you a little bragging rights I guess you could say.  This has been a project in development for me and its finally stable enough to give you all a little taste.  If your a subscriber and pay attention by reading the newsletters and keeping up in the chat lobby then you know that this results server is just the beginning in regards to stats and our  current ranking system that has been in development for over a year.
Through this results server VGN Arena will rise up and be born.  It's a good feeling to finally be seeing the end of the tunnel on this project.  I probably shouldn't say the end of the tunnel because our network will forever be in development bring new services and tools to enhance our players experience while participating in our community and independently abroad.  Having this piece of the puzzle coded will now allow us to venture out to further distances and truly start to get an awesome league and system up and running that is beneficial to everyone.
Through this results server we now have the ability to harness player statistics and achieve the competitive e-sport atmosphere I've been wanting to deliver to the community since the beginning.  Though this isn't that powerful right now and there are some bugs and some updates that will definitely need to be taken serious it is our hope that with the support from WPN and the community within we will be able to expand this technology and bring some really cool stuff.
VGN is true to WPN and we do not intend on releasing this software to any other poker networks.   Eventually the goal will be to allow Players to host their own leaderboards run their own leagues and get their name out there more.  Amateurs deserve a chance at the spot light and that's what I hope VGN Arena will one day represent.  You shouldn't have to to play in WSOP or other big televised circuits to get your name out there. I believe in the friendly casual game and everybody getting along and having fun just for the good times however Arena will not represent that.  VGN Poker will continue on and eventually arena will potentially bring some new concepts that have been used in the past with e-sport gaming but have yet to be delivered to Online Poker.  It's my hope that with our chain of command and supporting management that helps push this place along we will be able to offer our community a unique experience.  Without jumping ahead too far this the general outlook I have on the future of VGN and I can honestly say that things are definitely moving and we are growing much quicker than initially anticipated.  Nothing could be possible without the awesome players and community we have that hangs out and supports us every day.  For that I thank you.  Please read below on instructions on how to make a tournament results post that you can share with your friends and get out to the world.
1.) Accessing The Share Poker Tournament Results Form
In order to access the Share Results Form that you need to fill out you must be a subscriber.  The technology is still in semi-development and to prevent service outages and crashes we are Strictly only offering this site feature to VGN Poker Subscribers Only at this time.  That will definitely change in the future.  The picture below shows how you will access the Share a Tournament Feature on VGN.  Simply Hover over the Tournament Results Button From the main menu and select Share Poker Tournament Results  If you are a subscriber you will be granted access.
2.) Obtaining your the Tournament ID
The Tournament ID is required in order for you to . In order to share your Poker Tournament Results with the world you will need this ID. All of the stats generated are done so through the Official ACR/BCP or Ya Poker Tournament ID.  Its easy to get a tournament ID.  From your main Poker Client Lobby select "My Account" and then go down to "Transactions".  Once you are in the transactions section click on "Tournament Results".  From here you will be able to see all of your tournaments and ID's that you have played in on Winning Poker Network. Click the images below for a visual.
3.) Filling out the Results Form
Its important to keep in mind that this system is in its infancy.  Our results will not be updated on our site until WPN has released the tournament results from their end publicly.  Basically what happens is you fill out the form with accurate information.  The tournament is validated through the server and is automatically posted to the website with your VGN Username and a description of your choosing.   Please see the image below for a simple info graphic on what you need to fill in.  Keep reading however and I will give you a stronger breakdown on  how to do stuff.
A.) Tournament ID – The most important part of this process.  Make sure you type your Tournament ID correctly or it will hang in limbo and eventually be removed from the queue and will never see the light of day on the network.  Follow the instructions in Step 2 and make sure you have the right ID.
B.) Tournament Date – The second field in the form is the Tournament Date.  It will be your responsibility to set the date the tournament took place. Whatever you put in this field will show on your post as when the event took place.
C.) Email Address – This is also a very important field.  It's important you put in a valid email address so that you can receive a notification from our server once your post has been put up on the website. The server will let you know its all setup and will also provide you with a direct link to your post so that you can share it out with your friends or the community.
D.) Event Description/Highlights – This is also a very important field.   The Description of the post is what is going to captivate people and get your tournament out there to the world.  Crack some jokes make some laughs.  There is no requirement on the amount of words you use but feel free to go at it a little bit if you have something to say.  Thats how you will be heard and be recognized for your  post and/or accomplishment the most.
E.) Submit Button – Finally all you need to do is hit submit.  The Tournament information is injected into the central results database and will be picked up by our server client and processed accordingly.  Make sure you check your email for updates.  If you still haven't seen your post go up feel free to contact support and we will try to resolve the issue if you are having one.  Also we would like to hear of the bugs if any so we can fix them.
NOTE: Posting duplicate tournaments is forbidden.  Each tournament per player is allowed one post.  Try to steer away from the VGN Official Tournaments.  Each post players have the ability to share comments and give you feedback.  Theres no need to have a million of the same tournament posted on the site.  Waste of resources and storage.  Please see the picture below for a visual breakdown.  Use common sense if your caught abusing the Poker Tournament Results Sharing Feature there will be consequences.  If you don't understand something then by all means feel free to ask support.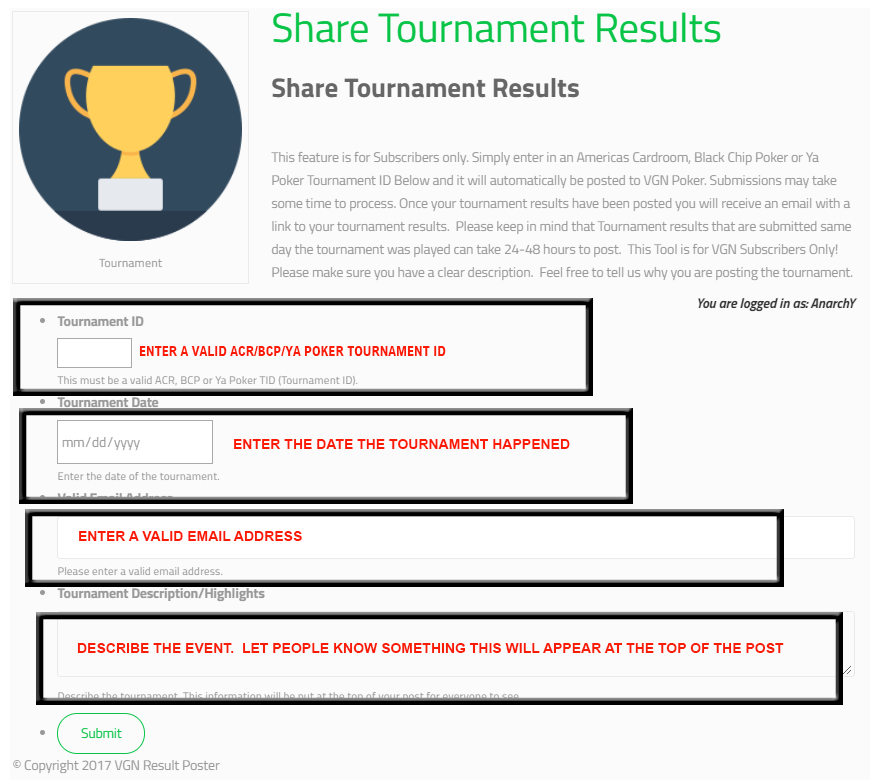 If you have any questions or need help purchasing please do not hesitate to contact Live Support!  Someone will be more than happy to help you with your purchase!  Our staff is here to help. We want you to make sure you have the Affordable Poker Table you are looking for!  If you are having trouble Sharing Poker Tournament Results we are here to help.  Remember this is a subscriber only feature.  If you are not a subscriber ask around its definitely worth being a VGN Subscriber for the pennies we charge every month.  See you all on the Felt!
Make sure to use bonus code vgnpoker when signing up to either ACR, Black Chip or Ya Poker! We offer one of if not the best bonus around!  Signup through us and get a 1 month VGN Subscription + an awesome welcome package from WPN!  Check out the offers we have available below.