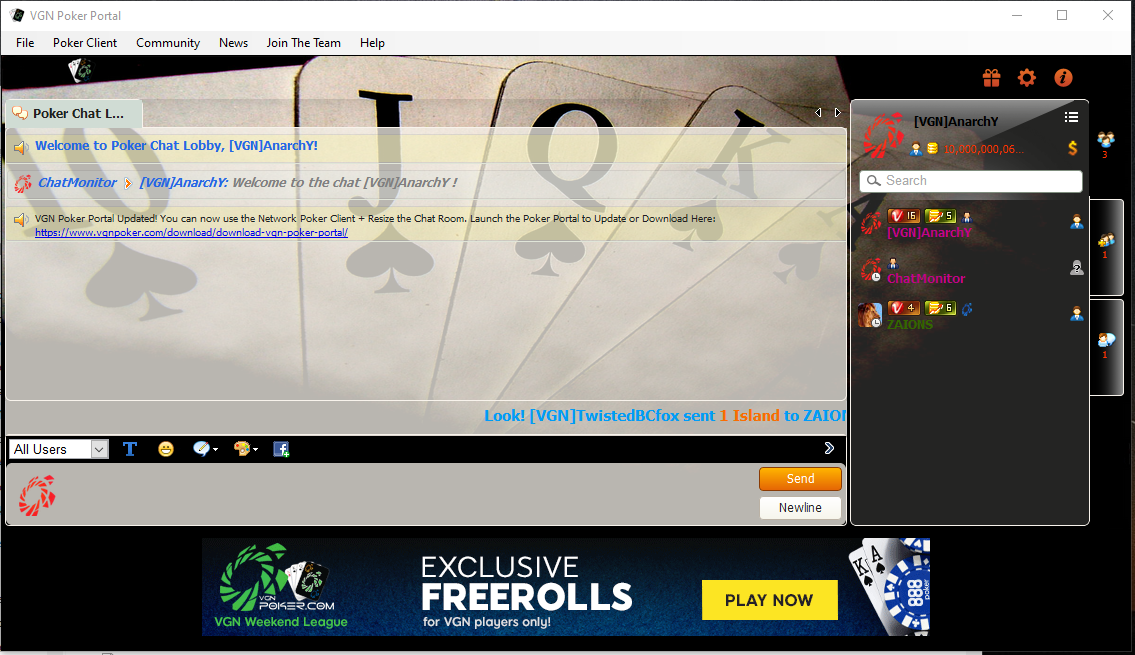 Version
Download

269

File Size

16.81 MB

File Count

1

Create Date

December 18, 2019

Last Updated

March 27, 2020
Download VGN Poker Portal For Windows
VGN Poker Portal is the first FREE Software our site has publicly released to date.  Through the Poker Portal you will now be able to access all of VGN through a Windows Desktop Application accessible from an icon on your desktop.  Our goal at VGN is to provide our players an efficient easy to use platform where they can interact and navigate our site and its features comfortably.
This software does have an automatic update feature and we will improving and adding features to the Poker Portal over time.  This software is 100% Free to use and is currently meant to provide our players an alternative route to accessing our Community Chat and different sections of the website.  If you have any problems installing or need support please don't hesitate to contact VGN 24/7 Live Support by Clicking Here.
FEATURES:
1.) VGN Community Chat
2.) Direct links to Support and other sections of the site such as Leaderboards & News.
3.) Currently the VGN Poker Portal is only available in a Windows Desktop Environment.
4.) VGN Network Poker Client
MINIMUM REQUIREMENTS:
Windows Vista SP2, Windows 7 SP1, Windows 8, Windows 8.1, Windows 10, Windows Server 2008 SP2, Windows Server 2008 R2 SP1, Windows Server 2012 and Windows Server 2012 R2
2 GB RAM
Internet Connection